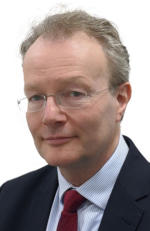 Firstly, I hope that you and yours are all well and safe.
This is a quick update on my and AREF's focus over the last month and our likely focus in the coming months.
Everybody is aware of the themes with which we are dealing at the moment, because we are all dealing with them: Material Valuation Uncertainty, the suspension of most open-ended funds, and tenants facing difficulties due to the lockdown and engaging with their landlords about rent and service charge payments. We are already starting to think about the pathway, if not the timeline, out of this.
As a team we are also dealing with the move to distributed working and the effect on our working and family lives, and starting to think about what our mode of working will be when the lockdown is lifted.
We are also starting to return to those five long term themes which I set out at the beginning of the year, which may have been put to one side for the past few weeks but which are still there: Brexit, liquidity, impact, diversity & inclusion and technology.
In terms of activity, as well as the webinars which are set out in the rest of this newsletter, I and other AREF and IA colleagues have been involved in a number of calls with members and with other organisations dealing with current events.
I have a daily call with the Property Industry Alliance (AREF, BCO, BPF, CREFC, IPF, Revo, RICS and ULI). At the start of the crisis these calls were mainly focussed on valuation uncertainty and fund suspensions, but recently the focus has been on relationships with tenants and Government interventions in the landlord/ tenant relationship. Members have been making it clear through their media and government contacts that a balance needs to be struck between, on the one hand, quite rightly supporting vulnerable tenants facing difficulties and, on the other, expecting those tenants who are in a strong financial position or still trading to meet their rental obligations.
Jacqui and I have a fortnightly call with the European Real Estate Forum, an informal grouping of trade associations from across Europe. It has been interesting to see how countries differ with regard to fund suspensions and government intervention in the tenant market. Some of these models, particularly from Scandinavia, are being proposed as models here.
I have weekly calls with the FCA and CBRE, which the FCA have requested in order for them to keep track of what is happening with regard to valuation uncertainty and fund suspensions.
Other ad-hoc calls have been with the Treasury, the PLSA, the major investment consultants, the major valuers, MSCI, the FCA and EFAMA, with three major topics:

Valuation uncertainty.
Fund suspensions and liquidity.
Rents, the extent to which AREF members are supporting tenants who need support, and the extent to which members' investors (pensioners and charities) are reliant on property income which may be under threat from rental income falling.

We held an important Chatham House Rules call with fund members, the RICS and the major valuation houses to air the concerns which members have around the material uncertainty clause and what appear to be divergent approaches to valuation in the current circumstances.
For the next month I believe that most activity will continue to be focused on valuation uncertainty, which may start to be lifted for certain sectors, on fund suspensions, with the focus shifting to managing the reopening process when it happens, and on rents and tenant relationships, which will come into starker focus as the quarter progresses.
Looking to the longer term, we have two new Working Groups starting which have recently had their first meeting:
Technology, under the leadership of Charles Kerrigan, which is establishing its focus and Terms of Reference.
Liquidity, under the leadership of Guy Glover, addressing issues around fund suspensions.
Turning to the five long term themes, all have been coloured by the current crisis:
Brexit: Given that the teams managing pan-European property portfolios are largely based in London, the ability to delegate portfolio management from Luxembourg or Ireland to the UK as a third country remains crucial. AREF is engaged with the IA in ensuring that the MoUs currently in place remain.
Diversity & Inclusion: Added to the long term issues of ensuring open access to the industry to people from all backgrounds, and attracting a diverse range of talent, the new issue of giving industry entrants a good professional training in a working environment in which we may need to continue physical distancing has come to the fore. We continue to work with Investment 20/20 and the IA's Risk, Culture & Resilience team on these issues.
Impact: The non-financial impact of property on people's lives has been assuming greater importance for some time in the eyes of investors. It is likely to be even more important in the post-lockdown recovery and reconstruction phase which we are soon to enter, with particular emphasis on the high streets and town centres which form the hearts of communities. In addition, climate change has not gone away and property's contribution to reducing carbon emissions remains crucial.
Liquidity: with the suspension of most UK open-ended property funds, this issue has come into stark focus in the eyes of investors, regulators, the press and the public. The Liquidity Working Group is working closely with the IA to ensure that we have a long term liquidity regime which serves the interests of investors.
Technology: we have all suddenly become more used to the distributed working that technology enables, and technological developments will continue to influence how we live and work, and how we use shops, offices, warehousing and leisure space. The new Technology Working Group is focussing on these developments.
Lastly, I need to thank a few people. I thank members for their continued support of AREF and their willingness to contribute time and energy to helping AREF and each other navigate the current difficult circumstances. I thank colleagues at the IA for their advice in interacting with Bank, regulators and Government. I also thank Clare, Ed, Eve, Jacqui and Mel for their continued hard work, good humour and "all hands on deck" attitude. Thank you on behalf of the membership.
I trust that everybody remains safe and well, and I look forward to continuing to work with you over the coming months.
Best wishes
Paul