The AREF Annual Dinner & Awards was launched in the late 1990s, to raise the profile of the Association and to create an opportunity for fund managers and their specialist advisors to network. It has become a highlight in the real estate social calendar.
The dinner has hosted a vast array of speakers and entertainers, including: Nina Conti, Lucy Porter, Lord Sebastian Coe, Rory Bremner, Ian Hislop, Miles Jupp and mind-reader Graham Jolly.
Click the image below to view full information on our 2023 Annual Dinner: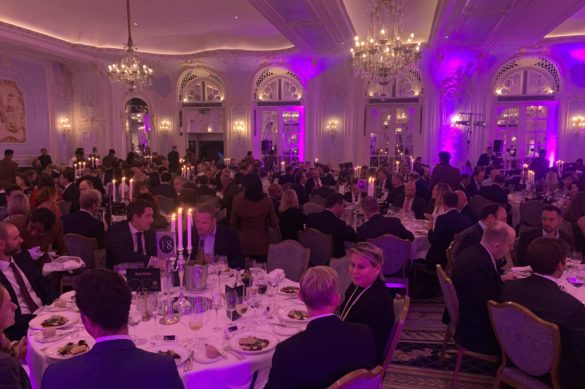 28 Sep 2023

We are pleased to announce Aztec Group will once again be the sponsor for the AREF Annual Dinner 2023. We are absolutely delighted to be working alongside Aztec Group on this, one of the highlights in the real estate social calendar.

In 2022 the Annual Dinner was held at the beautiful Savoy Hotel and was attended by 340 industry members, you can read more about the evening in our write-up by clicking here.
AREF Annual Awards
The AREF Annual Awards were introduced in 2011 to recognise AREF member funds that have consistently provided attractive, risk-adjusted performance to investors and to acknowledge member firms and individuals that have made exceptional contributions in supporting the work of AREF.
To find out more information on the awards, including the purpose, selection criteria, selection process and previous winners, view our Annual Awards page here.

Sponsorship
Please visit our sponsorship opportunities page for details and look out for announcements of new packages in our Newsletter.

Photos
Click the arrows on the photos below to view a selection of photos from previous dinners. To view more photos of previous dinners please click here.
​ ​
View 'Our History' publication below to read more about AREF and the AREF Dinner specifically on pages 16 & 17.