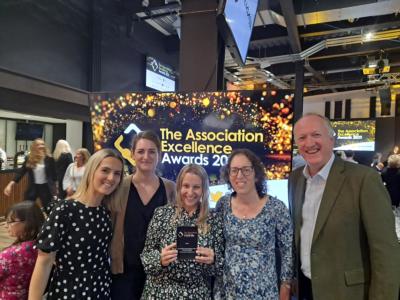 We are delighted to announce that AREF has won the bronze award for 'Best Membership Support During Covid-19 (under 800 members)' at the Association Excellence Awards 2021, held at the Kia Oval Stadium on Thursday 7th October2021.
The Association Excellence Awards celebrates the vital work that associations, trade organisations, unions and industry bodies do for and on behalf of their members.
In our 1000 word submission for the award, we detailed how AREF was quick to recognise the urgent need for all stakeholders to come together at the outbreak of the pandemic, to seek solutions and ensure clear communication and understanding of the many issues being faced. These included a number of new initiatives which were swiftly set-up by the Marketing Team, including: The Crisis Forum series; the Weekly Member drop-in calls; the Investor Member drop-in calls; the Pub-chat Podcast series; FutureGen Connect and AREF Connect; and a new Coronavirus Hub on our website. We also set up a member outreach program and our Managing Director attending daily calls with other industry bodies to ensure the industry was aligned. We also provided regular feedback to our members via emails, articles, newsletters and social media.
Below are some of the judges' comments on our entry:
"Great initiatives put in place to support members, with feedback showcasing value provided"
"Demonstrated flexibility and initiative"
Well done to the AREF Team!
You can find more about The Association Excellence Awards here.