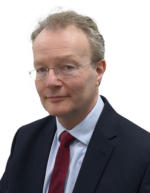 Well, what a year.
In response to the unprecedented circumstances of the pandemic, the industry as a whole and AREF members in particular have really rallied round this year.
I won't go into a detailed review now of what we've achieved in 2020 as most of you will have enough to read before Christmas, and many of you know the story very well as you were there and were instrumental in what we achieved. I will do that in the New Year along with a look forward at the main themes that AREF will be addressing in 2021.
What I do want to do is to give my thanks (I seem to have done that a lot this year) to many people:
The AREF team (Clare, Ed, Eve, Jacqui and Mel) who have been fantastically supportive in my first year at AREF and have had a real "all hands on deck" attitude. AREF and its members owe them a great deal.
Colleagues at the Investment Association where the IA's lobbying power and policy expertise have been invaluable in interacting with Government and the FCA around valuation uncertainty, fund suspensions, the moratorium, the liquidity consultation, non-resident capital gains tax and the Long Term Asset Fund.
The new AREF Board and Chair who have been generous with their counsel and their challenge.
AREF's Management Committee and the individual Committees who have faithfully carried on AREF's day-to-day work.
Individual members, too numerous to name, who have been so generous with their time, giving advice to the team and myself as well as participating in all the events we've held throughout this year - I am so grateful.
It just remains for me to wish you and your loved ones a peaceful and restorative break and I look forward to working with you in 2021.
Best wishes
Paul