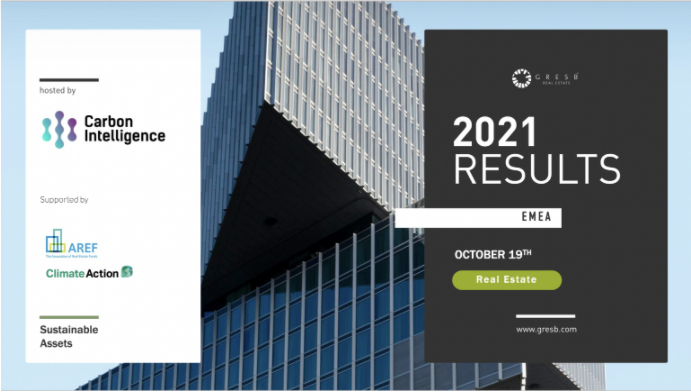 Join us on Tuesday 19th October for the 2021 GRESB Real Estate Results Event, where insights will be provided into the Environmental, Social and Governance (ESG) performance of real estate portfolios in EMEA. As well as hearing insights from GRESB into the results and performance trends, there will be a series of panels with industry experts for cross-sector discussions about effective tenant engagement and how net zero is set to impact real estate valuations.
This event is proudly sponsored by AREF and ClimateAction, and hosted by GRESB Premier Partner Carbon Intelligence.
Speakers include:
Alex Price, Chief Executive at Fiera Real Estate
Thomas Poulis Leinberger, Executive Director - Asset Management at AEW
Jessica Pilz, Associate Director - ESG at Fiera Real Estate
James Ainsworth, Head of Estates at PwC
Ellen McKinney, Sustainability Analyst at IPUT
Katherine Sherwin, Director at BlackRock Real Assets
Julie Hirigoyen, CEO at UKGBC
Claire Bradbury, Senior Consultant at Carbon Intelligence
Sivan Pliskov, Associate Director at Carbon Intelligence
Oliver Light, Commercial Director of Real Estate at Carbon Intelligence
Date:
Tuesday 19th October 2021
Time:
14.00hrs - 15.30hrs
Webinar details:
Call details will be sent to attendees ahead of the call.
Cost:
AREF Members:
FREE and open to all staff from AREF Fund, Affiliate, Associate and Investor member firms (view our list of members here) as well as our FutureGen network.
To Book:
Members - Please register using this link, or click the button below.