Thoughts from The FutureGen Committee
18 months on from the start of the pandemic
It has now been 18 months since the UK entered its first "lockdown", confining most of us to our homes and changing our ways of working drastically. For some, working from home was a relatively new phenomenon, with flexible working policies being adopted by the minority of businesses prior to the Covid pandemic.
In light of the March 2020 lockdown, the AREF FutureGen committee surveyed its members and subsequently published a whitepaper looking at attitudes towards remote working. After a year and a half of the pandemic, we have repeated this survey to see if and how such attitudes have changed, and what the future of the office may look like, both for occupiers and for landlords.
Did we really want to work from home this much?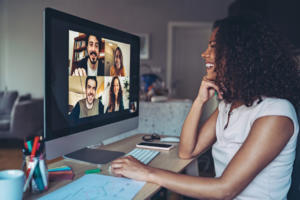 In the immediate aftermath of the pandemic, fully remote working was a novelty for most. Indeed, the opportunity to spend more time with family, adapt working hours to lifestyles, and to regain several hours of commuting time was welcomed. When we surveyed AREF members in May 2020, 86% said they would like to work from home more often in future, with the barriers to this being issues such as cyber security, lack of trust, and adoption of technology by senior leaders. However, many of these issues have been overcome now, with remote working becoming more normalised. It is interesting then, that of those surveyed in 2021 over half of respondents said they would prefer to work remotely for only 1-2 days a week in future, while just 8% said they would like to work from home full time. This suggests that while many see the benefits to working from home, a permanent exodus from the office is not the preferred option for the majority. After short daylight hours and seemingly incessant rainfall in the UK during the first quarter of 2021, many office workers were craving a return to some sort of pre-pandemic normality, and indeed the stats reflect this; the London Underground is already operating at greater than 50% of capacity compared to pre-pandemic level1. As a result, we expect the London office market to continue to be robust as tenants return, and for very little "downsizing" to occur. We predict that a remote working policy which allows for 1-2 days a week at home is likely to be the norm for most employers, and the preference of most employees.
The office is dead, long live the office!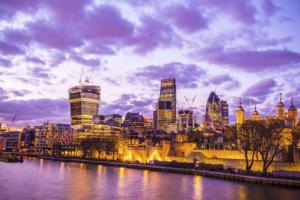 With almost the entirety of UK offices left deserted for much of 2020, many speculated that the office was a thing of the past. In our last whitepaper, 81% of respondents thought that our use of real estate would fundamentally change as a result of the covid pandemic, and we speculated that the rise of "hot-desking" models and shared working spaces would lead to occupiers downsizing their office space. 18 months on, this paradigm shift has yet to appear. In Q2 2021, space under offer in London increased to 2.3 million sq. ft, the highest level since the quarter immediately prior to the pandemic, while £3.1bn worth of deals were done in the capital during the quarter with a further £4.2bn worth of office assets under offer2. Many firms have now begun a return to the office, the majority on some sort of flexible basis, although some firms have spoken less favourably of flexible working, most vocally Goldman Sachs whose chief executive, David Solomon, described working from home as "an aberration."3
With many of those surveyed in 2021 stating a preference for at least part of the working week in the office, we expect to see most employees resume working from the office in the not-too-distant future. However, the way in which we use the office has likely changed. As part of our survey, we asked respondents what they saw as the primary function for the office in future; the overarching response was meetings. 78% and 74% stated they would attend the office for team and client meetings respectively, compared with just 26% of respondents who said they would likely spend time in the office for "focused work." Additionally, only 17% of respondents said that they felt less efficient working from home, confirming that the primary function of the office in the future is most likely to be for collaborative work.
There is a question to be asked then, of landlords, developers and operators as to how space is designed. With the easing of social distancing restrictions on 19th July in the UK, there is no longer a requirement to space out desks or to implement dividers between work stations, but if the office will primarily be used for meetings, then perhaps desk space is no longer the most important part of an office. Greater quantities of meeting rooms will probably be a feature in many offices of the future, and we expect to see better integration of technology with these to allow for "hybrid meetings," where some participants join remotely.
Career prospects for "Generation Covid"
A whole generation of young professionals, branded "generation Covid" by the media, found their careers turned upside down at the start of the pandemic. For many of these, remote working was entirely new, with some companies not permitting home working at all for staff below a certain seniority level. 18 months ago, we asked our FutureGen members whether they felt that Covid-19 had had a negative impact on their careers, to which almost 1 in 3 agreed. At the time, over 8 million people had been furloughed, and a fifth of employers said they planned redundancies in the near term. However, as of August 2021 unemployment stood only 0.8% higher than pre-pandemic levels, at 4.7%4, with record levels of job vacancies since records began in 2001. In our follow up survey, only 19% of respondents felt that their career had been negatively impacted by the pandemic, showing that perhaps the Real Estate sector in particular has been more resilient than many first thought.
Despite this, there are still a generation of professionals that feel their careers have been negatively impacted, and employers should recognise this. We wrote last time about job security and its impact on employee commitment and performance, and we know that several businesses implemented regular updates on company performance and resilience during the pandemic to address this. 44% of those surveyed still commented that they found it hard to get facetime with senior people in their business, and we expect a return to the office may address this somewhat. However, we expect the most successful businesses to be those that communicate well with their employees and provide a sense of job security alongside learning opportunities for the future.
Where do we go from here?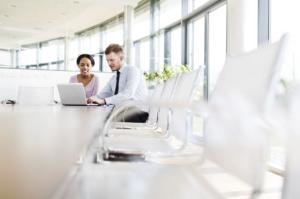 With restrictions being eased, and the recommendation to work from home no longer being in force, the question must be asked: where do we go from here? The majority of businesses have now reopened their offices for employees and we are seeing a slow and steady return. The change to ways of working has perhaps not been quite as dramatic as we first thought it would be, but our use of the office and our daily routines have nonetheless changed, and businesses must now grapple with what this means for them and their employees.
Some notable suggestions raised throughout the survey included:
Relaxing dress code for those in the office

Provide greater collaboration space for meetings

Ensure technology allows for hybrid meetings between team members

Implement mentor schemes between senior and junior employees

Having a formal flexible working policy which allows for collaborative time to be maximised in the office environment.
In summary, we believe that the office remains an important part of running a business and will continue to be a strong asset class in the UK, and particularly in London. However, both landlords and occupiers should consider how they manage the return to the office, with the use of space and technology playing a large part in how efficient the office is in the future.
For more from the AREF FutureGen Network, visit here.
---