Dear All
I hope everyone is well and you managed to get a good break over the Summer. We had some fantastic hill-walking in Snowdonia and beach-sitting on the Llŷn Peninsula, and we even managed to get overseas. The Isle of Wight has some lovely beaches.
We were also able to meet up as a team and enjoy an Away Day during the summer, including live music and a photo booth.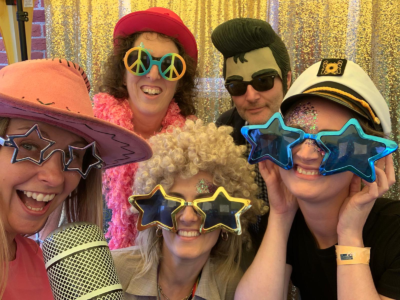 Consultations
While many of us may have taken a break over the summer, the issuers of consultations did not. Jacqui and the members of various working groups have been engaged in a huge amount of consultation and policy work, in both the UK and the EU, covering issues across ESG reporting, post-Grenfell residential taxation and building levies, property income (CVAs, post-moratorium arbitration), liquidity and the LTAF, and shell entities in the EU.
Thanks are due to Jacqui for the huge amount of precise and detailed work that she has been carrying out, co-ordinating working groups within AREF and across partner organisations, and drafting and redrafting responses.
The team and members are still engaged with the FCA and HMRC concerning hybrid funds, large trades and the LTAF, and with HMT/DLUHC on RPDT, the Building Safety Levy and tax reforms for the residential sector, particularly with regard to not getting charged twice.
Proactive policy work
In addition to the consultation responses, there are a number of pieces of proactive policy work underway, some of which will have long-term implications for the character of UK property as an investment asset.
Joint industry position following European Commission consultation on shell entities.
The Commission issued a public consultation, ending on the 27th of August, on "Fighting the use of shell entities and arrangements for tax purposes".
EPRA, the European Public Real Estate Association, has invited fellow members of EREF, the European Real Estate Forum, to develop a more detailed joint industry response to the commission. The issue was mentioned in the EU State of the Union address and the concern is that any future regulation brought in by the Commission could catch the valid use of property-holding SPVs and possibly even the top fund vehicles themselves. Organisations collaborating include AREF, INREV, EPRA, the IPF, CREFCE, the ECSP and national associations from Sweden, Germany and Denmark.
CVAs
As flagged previously, we are launching a collaborative exercise with the BPF, the IA's Government Affairs team and a number of large AREF members with the aim of stopping the abuse of Corporate Voluntary Arrangements, in particular inequitable "property-only" CVAs. We will also be talking with a few large retail chains who apparently feel that they are too large to do a "strategic" CVA and this gives an advantage to their smaller competitors who have no such qualms. This will be a fairly long and multi-dimensional process, but we are off to a good start with good buy-in from the members with whom we have discussed this. Given how deeply CVAs have become embedded in the insolvency process the task we have set ourselves may be difficult to achieve, but we believe that it is entirely worth devoting time and resources to it.
Review of Landlord & Tenant law
This has been flagged for some time by MHCLG/DLUHC and then delayed. They have recently confirmed to the PIA that this will finally be launched "in the Autumn". We do not know who exactly will be conducting the review or how it will work. Clearly this is fundamental to the industry and it is frustrating to have so little clarity, but we stand ready to respond quickly when the review is launched, collaborating closely with other PIA members.
Post-moratorium arbitration
DLUHC and BEIS are in the process of developing what they are calling an arbitration process to deal with situations where landlords and tenants are unable to come to an agreement to deal with ring-fenced rent arrears from the lockdown. We have been involved in two roundtables with DLUHC and BEIS on the topic, one with the PIA and one with the Commercial Property Forum which also includes the larger listed property companies.
LTAF and daily-traded open-ended funds
The LTAF consultation process and the Productive Fund Working Group are nearing their end. The earlier feedback that we had was that the LTAF would be distributable to DC schemes but not to retail investors. More recent feedback is that distribution may be widened. We have not heard anything about our request for SDLT seeding relief, but remain engaged on this topic alongside the IA.
Team
Camomile Court is now open with no restrictions. The team is still working mostly online but most of us are going into London one or two days a week. If you would like to host a committee meeting or an event at your office, please drop us a line at Info@aref.org.uk.
The team is in the process of setting up our first face-to-face event in October, since the start of the lockdowns last year, you can read more about this in the Newsletter and register on our website (link). Subject to take-up for the event, we will be planning further such events in future and I look forward to seeing you at one of them.