It was a capacity crowd at UBS for what turned out to be an extremely interesting breakfast seminar. All the slides can be found via this link. Here follows a summary, trying to capture the essence of the substantial topics discussed.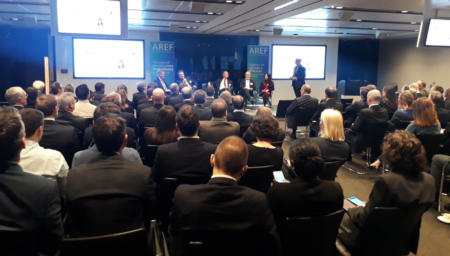 Kevin Aitchison, Head of Knight Frank Investment Management, opened the event with an excellent introduction to the speakers and panellists. Through a live audience poll, he asked, "What do you think will have the greatest impact on our industry over the next year?" They were offered six options and from the sixty-six people that responded, the results were as follows: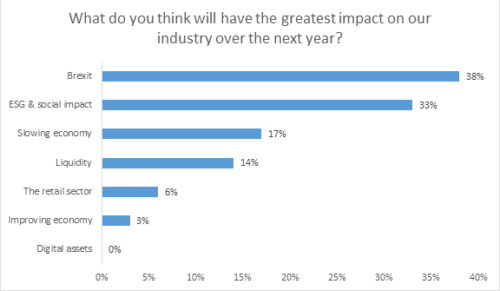 Andrew Phipps, Head of EMEA Research and Insight at Cushman & Wakefield then took the audience through his thoughts on macro mega-trends. He commented on the changing political background we have all witnessed in recent years, from the rise in populism, to isolationism, protests, disaffected young and tensions between the US and China and now Iran too. That said, it seems we have a greater degree of certainty in UK politics now and there is a feeling that we can at least move forwards.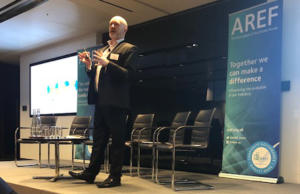 The more recent tensions in the Middle East saw gold prices rise and Bitcoin prices jump but Andrew believes ripples from such tensions tend to only be temporary blips on the longer term trend. In Russia, it seems Vladimir Putin has cemented his power for a longer period now too.
Andrew believes we are going through a period of societal change, whereby society is waking up to the fact that they can actually effect change: for example, there is now far more focus on climate crisis because society demands it. Also, with the demographic shifts in the makeup of the workforce, younger generations have a voice and expect to be listened to. Andrew believes businesses are more receptive to this now and are getting better at listening.
It seems 92% of Europeans see climate change as a serious problem and a similar percentage across Europe believe it is at least partly caused by human activity. Evolution creates challenges for a changing society, from developing technologies, to progressing demographics, to the consequent adjustments influencing economics.
On the economy, he sees a low risk of recessionary factors in 2020, which hopefully should be good for real estate.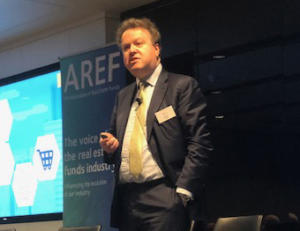 Mat Oakley, Director, Commercial Research at Savills then discussed the micro trends likely to affect UK commercial property. He begun by stating that Brexit has not gone away as there is still much to do. He discussed three key trends.
Firstly, given the political uncertainty in the UK has diminished somewhat, he expects to see more money coming to the UK from overseas. Much of this could be from Europe, though Mat posed the question 'what is there to buy?'.
Secondly, he sees a switch away from the bearish view on London offices. The fundamentals are strong, with the last three years being the best ever three-year rental growth period. He expects this to continue, with the market moving from landlords just looking to get offices let, to looking for a good level of rent too. Offices in the strongest cities outside London look in good health too.
Third, the retail turbulence is not finished yet but he believes prime retail is starting to look cheap and international investors will likely be attracted. He expects prime retail to bottom out in 2020 and the US are likely buyers. Highlighting his estimates for the changes to market rents for the 12 months ending Q3 2019, relative to the aggregated data in the index, Mat pointed to the evident valuation lag present.
He then went on to describe three 'disruptors'. With the World Economic Forum describing the world's pension deficits as big an issue as sustainability, there is a rising hunger for long income opportunities but with scarce real estate product to meet it.
Mat also believes last mile logistics and urban hubs are still complicated and may not be as safe as appears, challenging the moves we have seen in the yields for such property.
Finally, Mat states that uncertainty has not gone away and in uncertain times property can be a relative haven for investors.
In this context, his top picks currently, within the core space: London offices with rental growth potential; undersupplied regional office markets; and urban logistics with potential change of use. Then, on the opportunistic side: re-priced prime retail, where shoppers want to be; and high quality offices let to serviced office providers.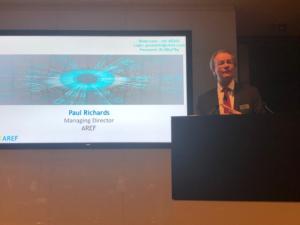 Paul Richards, AREF's new Managing Director, then gave a useful overview of the key priorities for the association over the coming year (click here for a full transcript of Paul's speech). While he is still going through the process of meeting and listening to members about their own priorities, which will guide AREF's longer term strategy, it is clear there are a few things that need to be navigated near-term and some themes emerging.
One overriding theme is 'lobbying'. In times of such political and regulatory turbulence, the UK-based property funds industry needs to have a strong voice to make sure that its interests and the interests of its customers, mostly pensions and savings, are represented. AREF's strategic partnership with the Investment Association, becoming a Special Member of the IA last year, provides access to the full breadth and depth of the IA's relationships with Government, regulators, central banks and the media.
Paul has already identified three immediate areas that need to be tackled this year and where AREF will be active.
Brexit: London remains Europe's largest asset management centre and forty percent of the money managed in London comes from outside the UK, of which a significant proportion comes from other parts of the EU. Furthermore, nearly all the teams managing pan-European property funds are based in London, with those needing a Continental presence setting up operations in Luxembourg or Dublin but keeping their management teams in London. We will be lobbying for continued delegation of portfolio management to London from the EU and for the continued flow of capital and talent.
Liquidity: countering the negative perceptions around daily dealt funds, working to enhance the UK funds regime and working to allow illiquid assets to be held in platform-based DC pension pots.
Impact investing: property has so many different kinds of impact on the environment and on people's lives that it is difficult to encapsulate this in a single measure. Pressure to reduce climate impact is urgent and investors are demanding for us to demonstrate we are acting on that and also paying attention to the wider social impact that property has om people's lives.
There followed an excellent interactive panel session, with questions from the audience. Lord Jonathan Hill, Senior Adviser, Corporate Client Solutions at UBS and former leading politician, provided some excellent insight, answering several questions. He was asked for his thoughts on how the political environment had changed and what effect it was likely to have. After the general election delivered such a commanding majority to the Government, he told us there has been a profound change in the political situation. He believes it highly likely that the Conservatives now have ten years to govern, as Labour has a huge hurdle to overcome, not just winning back the North but grappling with the SNP dominance of Scotland too.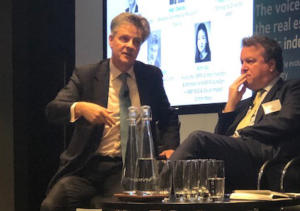 Lord Hill believes we must all now be alive to the binary choice of having no access to the EU markets but be free to regulate ourselves and determine with whom we trade or have access to the EU markets and not be free. He is clear that Boris Johnson will chose the former – he wants to leave and there will be no watered down, soft Brexit being mooted by some.
Given the above scenario, he does expect financial services to be disrupted – no regulatory passporting, for example. With regards the trade agreement, he also believes that we must consider the chances of a no-deal, WTO type exit are pretty high. Therefore, the Government is looking for ways to make the UK economy stronger – expect to see investment in infrastructure, for example. They are very open to ideas being presented to them that will help their cause, so a good time to be lobbying if issue will contribute to the economy.
Furthermore, he believes the Government are genuinely looking at ways to rebalance the economy, helping the provinces more than previously. He thinks London will continue to be the financial centre of Europe, as there is no real alternative.
Overall the regulatory environment will largely remain in line with the EU and global regulations but he expects them to be 'applied more intelligently'. Lord Hill pointed to the future, where he believes the opportunities lie. Issues requiring regulatory development should mean the UK could be among those setting a global standard, being more agile than the EU needing approval from twenty-seven members.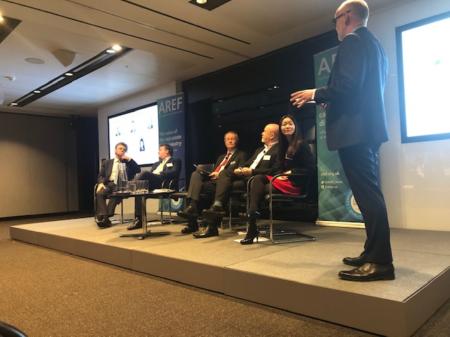 The subject of ESG and impact investing was a hot topic, with many questions from the audience. Ann Xu, Associate at CBRE GI and member of both AREF's FutureGen and ESG & Social Impact committees addressed most of these superbly.
Asked whether the subject wasn't a fad, she told the audience she believed the issue had developed into something more personal for everyone involved – tenants and landlords alike. As such, it is now imperative for fund managers to take these issues onboard, at the very least if only to incorporate and assess the many facets and hence the potential risks when financial modelling.
Another question addressed the issue of financial return versus ESG/SII goals. The panel was slightly split, with some suggesting there probably was a trade off that investors would have to reconcile themselves to. Ann does not believe they are necessarily mutually exclusive and suggested that fund managers need to consider these factors now, as changes to regulations and societal demands later could have a material effect on the value of a property or the required expenditure on it during its holding period.
The panel were asked if the government understands the housing crisis. It was thought that the whole of parliament 'gets it', so whoever is working on it, whatever their political hue, will look for ways to resolve the situation. If they don't move quick enough, corporates may try to resolve their own staff's housing issues in order to attract and retain human capital. The challenge our industry faces is how we build stock to fill the institutional investors' appetite.
Kevin then closed the session repeating the live poll from the beginning. The results were as follows, interestingly demonstrating quite a swing towards ESG and social impact investing: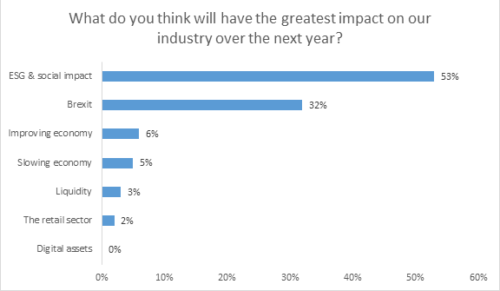 AREF would like to thank all the panellists for their excellent contribution and all our members that came along and made this such a successful event. Special thanks too for Kevin Aitchison, who moderated the event superbly. We would also like to thank UBS for providing such a good venue for this seminar.
Please do take a look at our events calendar and make sure you register early for any or all of the excellent events we have coming up for our members. Please remember, the vast majority of our events are open to all members – Fund, Affiliate, Associate and Investor. We also actively encourage all our FutureGen network to come along and get involved.