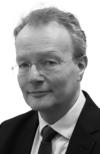 I hope everybody is well and managed to have a good break over the summer. I managed to get two weeks based at home and we rediscovered how beautiful England can be. And the garden has never looked so good.

I would like to start with three people announcements:
Emma Cullen, COO of Fiera Real Estate, who has served on the Corporate Governance Committee for several years, was recently unanimously elected to the role of Chair, replacing Adrian Benedict on his taking up the role of Board Chair. She also joins the Management Committee. Emma's legal and operational background will be immensely useful in her new role and I look forward to working with her.
Kevin Aitchison, CEO of Knight Frank Investment Management, has joined the Board. Kevin has always made robust contributions at the Management Committee, informed by his background running both large and small investment management businesses, and I look forward to him being able to make his contribution at the Board level.
After many years on the Board, including a stint as Chair, Ian Mason is rotating off the Board and onto the Management Committee, retaining a special overview of the AREF Index. Ian and I have known each other for many years across multiple employers and, as well as running his own business, he has always had the interests of the wider industry at heart. I am glad that we are retaining his input on the Management Committee.
The period since my last Newsletter has been an eventful one, to say the least. The two most important events in the business and regulatory environment have been the general lifting of the Material Uncertainty Clause from property valuations, with the consequent ability of suspended open-ended property funds to reopen, and the coincident FCA consultation "CP20/15: Liquidity mismatch in authorised open-ended property funds". In addition the Government support of tenants in the form of the eviction moratorium, recently extended for a second time, is having serious negative effects on the security of property income and on the legal basis of the landlord/tenant relationship. To deal with these in order:
We had a useful member roundtable with the FCA in early September to discuss the issues around funds reopening, and the topic was also raised in a call with the Treasury. We are keeping track of members reopening and the level of redemptions which they are facing, and feeding this information back to the Treasury.
We are working with the Investment Association to produce a joint response to the FCA Consultation and the first draft has been sent to members for feedback. A series of roundtables with IA members, AREF members, DATA members and platforms has been started. It is very clear that this is not simply a matter of changing notice periods on property funds. The surrounding ecosystem, including platforms, transfer agents and wealth managers, will also have to adjust their systems and operating practices if the proposed changes are to work. This was a central topic during a recent session of the Bank of England Commercial Property Forum at which AREF was present. A further draft of the response will be circulated in early October for feedback, with the final response being delivered to the FCA by 3rd November.
Members are increasingly concerned about the inequity of the moratorium and of CVAs, and about the undermining of the sanctity of contract and the rule of law which they represent. We raised these concerns with MHCLG during a recent Property Industry Alliance call with them and they have asked us to collect data around how the undermining of property income may be reducing the attractiveness of property as an asset class. This is at a time when Government is looking to attract more investment into property and other real assets as part of recovery and long term growth plans. We will be sending out a data-collection survey shortly to members. We are continuing to actively lobby HMT (through the IA) and MHCLG on these topics and one fellow PIA member is engaged with the Attorney-General on the matters of law.
We recently had the first Board meeting under Adrian's Chairmanship, during which we discussed AREF's longer term strategic priorities. AREF has been thinly spread in responding to immediate environmental challenges for the last few months, and this was a good opportunity to step back and think about what we want to achieve over the longer term. We will be continuing these discussions among the Management Committee, with the Investment Association and then across the wider membership.
Lastly, I would like to welcome a new member to AREF, Carbon Intelligence, who joined as an Affiliate Member from 1st September. Operating for ten years, they are a London-based company working with their clients on reducing carbon emissions towards net-zero. They are a world class team of strategists, technologists and engineers who believe in business as the solution to a zero carbon world. They have 80 staff located globally and they are currently working on 45,000 buildings across 60 countries, using their proprietary data platform ADAPT. They are very keen to work with AREF, with the ESG & II Committee being of particular interest for them.
Unfortunately it looks as if we may be entering the second wave of the pandemic and another round of partial or full lockdowns. I hope everyone stays safe and well, and I look forward to working with you all in the coming months.