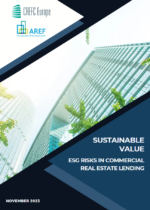 We are delighted to launch this new report, in collaboration with CREFC Europe, which considers common approaches to sustainability and environmental, social and governance (ESG) risks in real estate valuations for commercial lending.
The report contains collective commentary on how to put into practice the "Sustainability and ESG in commercial property valuations and strategic advice, 3rd Edition" professional standard, particularly for commercial lending in the UK market to commercial property either with asset sizes in excess of £10 million or portfolio sizes in excess of £25 million.
The ways that sustainability and ESG factors impact commercial property lending are evolving quickly, as are the related regulations. This report reflects the market today and seeks to provide more consistency and clarity (albeit we expect that these practices will evolve rapidly, potentially superseding these recommendations). We believe this report to be a practical baseline which should be used to establish more common practices and improve certainty and consistency in how buildings are financed with alignment to the UK's transition to net zero.
In this report:
We provide recommendations on how sustainability-oriented features may impact value. Currently the sustainability features which are most explicit in valuations are those which address climate risks.
We consider some of today's most material ESG factors but establish that climate risk currently outweighs others in how the market considers sustainability in asset values.
A key focus is on how lenders and valuers should adopt common approaches to capital expenditure (capex) when considering sustainability in asset valuations in line with the market, noting that sustainability related capex should be treated within rather than alongside other forms of asset investment and expenditure.
We align our recommendations with RICS Global Red Book requirements and related guidance, including the RICS Professional Standard and the RICS UK Commercial Secured Lending – Draft ESG Framework.
View the Report
Enquiries
For any enquiries relating to this report, please email us at info@aref.org.uk and we will ask someone from our ESG & Impact Investing Committee to contact you.
With special thanks to the Author & Chair of Steering Committee: Sam Carson, CBRE .
The Sustainable Value in Lending Working Group included representatives from the following firms:
Accenture, AIG, Aviva Investors, Bank of Ireland, Barclays, CBRE, Cerberus, Cheyne Capital, Dechert, DekaBank, Deutsche Pfandbriefbank, Evora Global, Federated Hermes International, HSBC, JLL, Knight Frank, LaSalle, Lloyds Banking Group, Royal Bank of Canada, Santander, Savills and Wells Fargo.