AREF Research
First in a two-part report commissioned by the AREF Research & Information Committee, sponsored by Mourant
It has been over a decade since the Global Financial Crisis (GFC) and the consequences have been felt across economies and industries around the world. The UK real estate funds industry has been no exception. There is little doubt that behaviours and attitudes to investment and risk from both investors and managers of UK real estate funds have changed over the past 10 years in response to experiences caused by the GFC. But what are these key changes? How has the UK real estate funds industry evolved? Has the industry adapted to the evolving needs and requirements of investors? What have been the key drivers of fund returns? And what does the future hold for the UK real estate funds industry?
In the first of a two-part report commissioned by the AREF Research & Information Committee and written by Property Funds Research and Real Estate Strategies, we are delighted to publish 'The UK Real Estate Funds Industry 10 years on from the Global Financial Crisis'. This report examines data from the MSCI/AREF Property Fund Vision Handbook and MSCI/AREF Property Funds Index and covers the central themes of fund investment: the universe; performance; stock selection; liquidity and fees and how these have evolved over the last 10 years. Part two, due to be published later this year, will examine the future of the AREF funds universe over the next 10 years.

Click the image or link below to read the full report.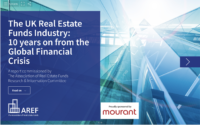 AREF Research Report - The GFC and 10 years on
Read the second part of this report, published August 2023, here.

Key highlights include:
The Report estimates the MSCI/AREF Property Fund Vision (PFV) Handbook now covers 13.5% of the GAV of all UK real estate institutional investment, an increase from 9.0% since the GFC.
Over the last 10-years, All Funds index has delivered a 6.1% pa return - higher than equities, bonds, and property equities at 4.1% pa, 4.5% pa and 5.6% pa respectively.
To better understand what has happened to the AREF fund universe since the GFC, the Report models and analyses the five key drivers affecting fund returns: cash holdings, leverage, fees, structure, and style.
The combination of leverage, cash, structure, development exposure and net investment flows explains over three-quarters of the variation in individual fund risk-adjusted returns.
Leverage has had a negative effect on either, or both, excess and risk-adjusted returns. This result might help explain the fall in the stock of debt in the MSCI/AREF Property Fund Vision (PFV) Handbook from £12bn to £4bn.
Proudly sponsored by: