AREF Guidance for Investors
Questions to ask your Property Fund Manager
A guidance paper from the AREF Investor Committee.
This simple guide has been put together by AREF's Investor Committee, a collection of highly experienced investors in real estate funds. The guide is intended to provide some assistance to investors who may not be fully familiar with real estate investment and dealing with property fund managers. The Committee has listed what they believe are the main topics for discussion. The suggested questions are not meant to be all inclusive within each topic hence this is not intended as a due diligence questionnaire. Investors are encouraged to embellish their questioning on any particular detail they wish.
Click the image below to read the full report.
Link to Report: 'AREF Guidance to Investors: Questions to ask your Property Fund Manager'
Importantly, if a real estate fund is a member of AREF, it must adhere to our Code of Practice, as explained below. As such, an investor looking at one of our member funds can expect high levels of transparency and sound corporate governance. With an AREF Fund Member, investors can be assured that the discussion points suggested herein should be readily available to them.
AREF's membership includes over sixty-five property funds spanning the leading real estate fund management houses in the industry, through to smaller, specialist boutiques, with a collective net asset value of over £72bn*.
The AREF Code of Practice
We understand that sound corporate governance is high on most investors' agenda, perhaps more so now than ever, and AREF's Code of Practice promotes best practice in corporate governance and transparency. It is a principles-based code, focused on transparency, operational integrity and accountability. Indeed, our Code is widely acknowledged as the gold standard in corporate governance and every AREF member fund is required to adhere to it.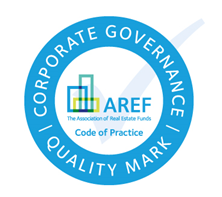 Each year, when the funds certify their adherence to our Code, they receive our Quality Mark. We hope the sight of our Quality Mark gives a degree of comfort to investors that that particular fund operates at such a high standard.
Member funds also submit quarterly data which is used to compile the Property Fund Vision, a valuable compendium of data, providing considerable detail on each of the funds and available to all Investor Members of AREF, free-of-charge.

Much of what AREF is striving to achieve is ultimately for the benefit of the underlying investors. As an investor in property funds, you may wish to consider joining AREF – it's free, after all! For further details, please take a look at our website.