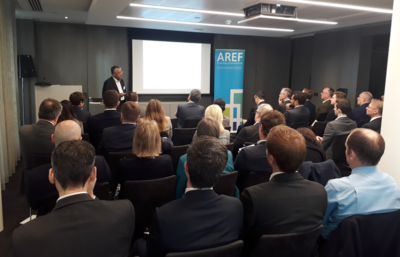 We had a sell-out event on the 16th January for Investor Members only, in association with the Real Estate Investors' Forum and PropertyMatch. It was standing room only at CBRE's offices by St Paul's Cathedral, as investors gathered to hear the outlook for real estate markets and key trends affecting institutional real estate funds.
You can find a link to the slides from this event here.
Following a warm welcome from our event chair, Melville Rodrigues, partner at Charles Russell Speechlys, Dr Neil Blake, Global Head of Forecasting and Analytics at CBRE, walked delegates through a market overview and his thoughts on the prospects for indirect investors in 2020.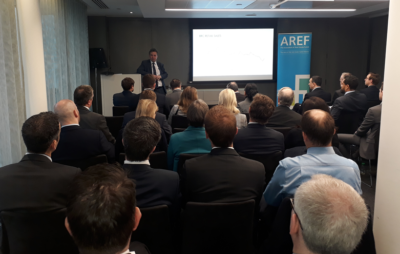 Neil began by looking at the economic backdrop, where the UK PMI data demonstrates that we have experienced a slowdown in the service sector since the 2016 referendum and in manufacturing over the course of 2019 – the latter being less relevant for property though. Retail sales have also experienced a downtrend since the autumn of 2017. This data together marks a period of economic uncertainty. Despite this, employment growth has remained buoyant, particularly for service sector office jobs in provincial cities.
So, what are the implications for the property market in the UK? Neil points out that 10yr gilt yields remain very low and are likely to stay so by historical standards for some time yet. He highlights the yield premium property provides is this still attractive and doesn't expect yields to rise much in offices and industrials until 2024. The story is different for retail, where yields have already risen throughout 2019 and where he expects further weakness in 2020.
In terms of capital returns, retail is forecast to fall another 9% and Neil expects offices to be broadly flat for 2020, as the strength in employment growth there doesn't seem to be directly converting into higher occupier demand. Industrials continue to deliver good returns, though somewhat lower than the heights of 2017 and 2018. While the cycle is mature, he is forecasting a mini-upcycle to begin towards the end of 2020, as uncertainty fades, with better returns forecast for 2021.
The total returns in the various sub-sectors of property in 2020 are led by 'standard industrials' in London and the South East – essentially urban logistics. Large distribution warehouses is the sub-sector ranked third. All of the five worst performers, and all with negative total returns forecast, are expected to be within retail. Please see the slides for the full breakdown.
Looking at the risks to his forecasts, Neil discussed two upside and two downside. On the upside, he conceded he may be too pessimistic on pricing; there are tentative signs of enquiries picking up. There are also signs of recovery in the housing market. To the downside, Neil wonders if the 'big box' supply is catching up with demand, with the implications that may have for pricing if industrials are finding a balance. And with the retail sector, things could be even worse.
Richard Lowe, Editor of IPE Real Assets then gave an overview of the key trends affecting institutional real estate funds and investors globally. He pointed out that 2019 had been the highest year for capital raising for real estate funds since 2008, according to Preqin, with US$151bn raised – though the number of vehicles was significantly down. Much of this was driven by infrastructure and two mega-funds skewing the data somewhat.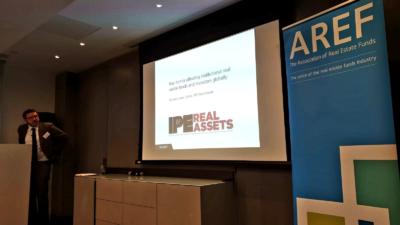 The top 100 largest global real estate fund managers now manage around €3.6trn between them, as figure that has more than doubled over the last five years. The list also appears more concentrated in terms of size of AUM, demonstrating that it appears investors want to do more business with fewer managers. For example, US fund CalSTRS announced they were halving the number of managers it works with. This trend is causing a degree of consolidation where relevant fund managers reconsider the boutique approach vs a more diverse offering.
Global open-ended core real estate funds are also something that is emerging, challenging fund managers to demonstrate that they truly have the requisite resources in all areas to offer such funds to investors.
Lastly, Richard discussed LGPS pooling. This has been a drawn out affair generally and the real estate portion of these funds is likely one of the most challenging areas. It does appear that that these schemes are now beginning to become in-house multi-managers. In terms of allocations, Richard wondered whether we are also likely to see a greater proportion of the real estate portion be invested in in international opportunities.
In addition to the insights gleaned from our guest speakers, this event provided a good opportunity for the delegates to network over coffee and pastries, provided both before and after the presentations and question and answer sessions. Our thanks to PropertyMatch and CBRE for being such generous hosts on the day. Our thanks also, to Melville Rodrigues and his Real Estate Investors' Forum for making this such a successful event.