Thank you to all those who came along to this popular event, discussing the development of Tokenisation within the real estate industry.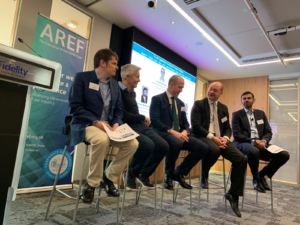 The panel were introduced by a brief overview from Charles Kerrigan, partner at CMS, followed by Toby Lewis, Novum Insights. Thank you to our panel, which included David Delaney, CEO of IPSX, the first regulated securities exchange trading commercial real estate; Neil Meikle, Global Head of Real Estate Product Strategy, AberdeenStandard Investments; Daniel Coheur, COO of Tokeny Solutions, an end to end tokenisation platform to issue, manage and transfer securities on the blockchain and Adrian Benedict, Investment Director of European Real Estate at Fidelity.
We are planning to host a follow up session later in the year looking at demystifying tokenisation/blockchain generally, in the real estate / real estate funds context.
You can find event materials below: