A joint event with Investment Property Forum
Full Event Video
Event Summary
This highly popular event was hosted by Blackrock, in its excellent conference room. Delegate places were sold out within a week of this event being announced and despite consequently moving to Blackrock's much larger venue, the event was still substantially oversubscribed with a long waiting list to attend. This shows the extent of interest in and around the real estate funds industry in social impact investing at this time.
After Edward Clough, Investment and Operations Director for Octopus Real Estate, sole sponsor for this event, gave a welcome address to delegates, Melville Rodrigues, partner at Charles Russell Speechlys, introduced the proceedings. He suggested there are two main catalysts at work, galvanising the industry towards social impact investing; a supply driver and a demand driver.
On the supply side there is a shortage of social infrastructure, hence the emergence of sectors like affordable housing, urban regeneration and healthcare. On the demand side are the UK pension funds and other institutional investors, seeking attractive long-term returns, increasingly with a social impact agenda, while reputationally sensitive and risk averse.
Introducing the panel of investors, Melville explained one of the key focal points for today's seminar was to be on measuring social impact and discussing the challenges that presents.
Peter Hobbs, Managing Director at investment consultancy bfinance, told us he has seen a huge surge in private asset classes, particularly with an impact investing remit and globally too. He believes this will herald a fundamental change in investment approaches, far bigger than the move to ESG a decade or so ago.
Many funds are mandated with specific social impact targets to achieve. Because of this, Peter believes their impact is easier to measure than a fund with a broad ESG mandate. Interestingly too, it seems none of the many investors bfinance work with on social impact investing are prepared to forego financial returns. His slide mapping real estate impact funds and their target returns versus their level of impact seemed to clearly illustrate this.
Anna Shiel, Head of Origination at Big Society Capital, explained that while there are many metrics to measure impact investing, perhaps the biggest challenge is deciding what change an investor seeks to make. She suggested that investors need to focus on impact management; what does 'good' look like and a need to drive for common standards. She also emphasised the importance of manager selection; the need to have the values and purpose of the fund manager aligned with the investor seeking to make a positive social impact.
James Giles, Pensions Investment and Risk Manager with the Co-operative Pension Scheme, explained that when they started considering an affordable housing strategy, as an alternative inflation-linked property mandate, reputational sensitivity was at the forefront of their mind. So much so, they needed to get the Co-op's main board onside too, not just the pension trustees. Key for them was understanding all the risks around such things as tenant protections and getting comfortable with the risk of being portrayed as a 'bad actor' in the rental space. To that end, they are reconciled with not maximising financial returns. In contrast to the clients Peter typically works with, it seems they are actually prepared to accept more modest returns via modest rents, to avoid this reputational risk.
John Gray, Newham Deputy Mayor, member of their pension committee and Joint Vice Chair of the Local Authority Pension Fund Forum, appeared in a personal capacity to share his insights. John explained the acute housing crisis they face in Newham and their dire need for social housing. At the same time, they have a £1.5bn pension fund that seeks safe, inflation-linked income. Previously, the required scale and reputational risks had prevented the pension fund from investing in social housing in the past, but they are now ramping up investment in this area.
He explained that housing benefit only covers 70-80% of the market rent, costing the local authority millions of pounds in top-ups, so the priority for them is good quality temporary accommodation, where rents can be covered fully by housing benefit. They have had a flurry of institutional managers pitching to 'solve their problem'. Apparently, some have been very good, but some have been dire! He also warned any managers with ambitions in this area that pension committee prudence made the whole process slow and counselled patience. From his work with the LAPFF, it seems clear to him, however, that there has indeed been a shift away from solely focussing on financial returns, to including social impact investing now.
The topic of measurement was better covered in the question and answer session, with Peter Hobbs adamant that challenges around measuring social impact should no longer be used as an excuse not to do it because there were now so many tools and so much help available to address these challenges. Delegates may wish to familiarise themselves with the UN's Sustainable Development Goals, the Impact Management Project and the Global Impact Network.
According to Anna Shiel, it sounds like measuring impact on a case by case basis was perhaps easier than across a portfolio of impact investments. The challenge there, is identifying a set of common impact strategies, where often the problem is not coming up with metrics but rather making sense of it all.
While the panel displayed a dislike of development risk, most of the projects they have been involved in have been new builds. These are easier to effect social impact while retaining sound financial returns, with refurbs more challenging.
It seems clear that real estate has so much to add to the social impact approach, beyond affordable/social housing and delegates were encouraged to look across the impact spectrum, from simply avoiding harm, right through to actively prompting change.
The Association of Real Estate Funds (AREF) would like to thank our event partners, Investment Property Forum (IPF), our hosts Blackrock for their wonderful facilities and Octopus Real Estate for generously sponsoring this event. Our thanks also, to Melville Rodrigues for moderating the session so well and, of course, to our excellent panel of investors for providing a tremendous insight into how they approach this exciting topic.
The final event in this particular series covering social impact investing is planned for March 2020 – more details will be posted to our events calendar soon.
Materials from this event can be viewed below.
Slides - Click image to download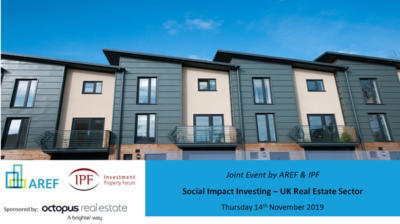 Full Event Video
Promotional Video
Proudly sponsored by: