About Diversity, Equity & Inclusion (DE&I)
Each individual in an organisation brings with them a diverse set of perspectives, work and life experiences and religious and cultural differences. These differences can bring many benefits to an organisation and can help make it and the industry in which it operates successful. At AREF we recognise that there is appetite for the real estate industry to do things better in this area.
The Association aims to work in an environment that supports, reflects & promotes equity and inclusive behaviours & practices, and respects individuals & groups of people and provides support to its members to create an inclusive environment.
We are very passionate about this important subject and it is one of our current strategic priorities.
Below you can find some information on how we are working towards supporting our members with DE&I.

Recent DE&I Initiatives from AREF:
The AREF DE&I Taskforce
The Taskforce is led by Sophie Reguengo of Ogier.
DE&I Taskforce Members
Faye Crook, Nuveen
Stefan Chinniah, Mourant
Nneka Ejindu
Rachel Fowler, Mourant
Lakhmi Halaith, Osbourne Clark
Juliet Leith, I2020
Claire Magowan, Savills
Sarah Walker, Travers Smith
Hebe Williams, Savills
Ann Xu, CBRE Investment Management
Clare Whyte, AREF
Mel Ali, AREF
Interested in joining?
We are looking for new members. If you are interested in joining the Taskforce, please email us at info@aref.org.uk.

Collaborating with others
We recognise that there is only so much that we can do through our day-to-day activities, which is why we support the following organisations and are proud of the vital work they do:
Organisations who our members work with in DE&I
AREF collected, through a member survey, the names and details of around 20 organisations working in DE&I in our industry who already help many of our member firms (download logos and links here). We'd encourage members to reach out to these firms, as everyone needs to start somewhere to create the change. Click the image to view the logos and links to their websites: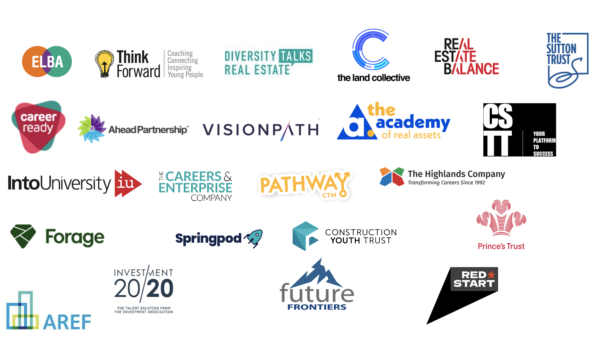 Other Resources
Below are a series of reports, produced by our partner association, The Investment Association (The IA) which we hope you will find useful:
If you have anything you wish to raise with us relating to DE&I, please contact us on info@aref.org.uk.